Lynne A. Valenti
Cabinet Secretary
SNAP Electronic Benefits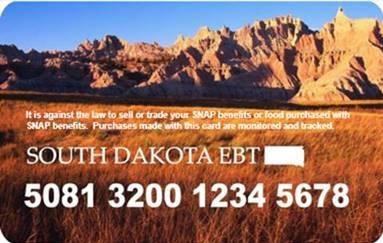 Electronic Benefits Transfer (EBT) is responsible for the electronic distribution of benefits and payments to recipients, providers or vendors. This electronic technology includes government debit cards, prepaid debit cards and direct deposit. Electronic distribution ensures convenient, rapid and secure transfer of both information and payments.
South Dakota EBT allows Supplemental Nutrition Assistance Program (SNAP) benefits to be issued and redeemed using a plastic debit card. Information on the card's magnetic stripe along with a 4-digit personal identification number, ensure the proper account is debited when a household uses the card to purchase groceries at authorized retailers. The recipient or merchant will slide the South Dakota EBT card through a POS (point-of-sale) device that will transfer the specific amount of the purchase from the recipient's account to the retailer's commercial bank account.
Only authorized food items may be purchased with an EBT card. The U.S. Department of Agriculture's Food and Nutrition Services site explains what food items can be purchased with SNAP benefits and what items cannot be purchased.
EFT refers to the process of direct deposit. Department payments are deposited directly into the appropriate savings or checking account via a nationally standardized system authorized by the Federal Reserve System.
EPC refers to the Electronic Payment Card, also known as the U.S. Bank ReliaCard®. The Electronic Payment Card is used to distribute electronic payments to individuals who may not wish to utilize direct deposit through a conventional bank or credit union. This payment option is currently offered to individuals receiving
Child Support
,
Temporary Assistance for Needy Families (TANF)
,
Title XIX Non-Emergency Medical Transportation (NEMT)
,
Child Protection
and
Child Care Services
. The U.S. Bank ReliaCard® is a prepaid debit card that can be used to receive cash at ATMs and cash back at many retail stores.