Foster Parenting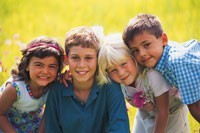 Foster Parents work with family services specialist for training, licensing, and to determine if foster parenting is right for their family – all at no cost.

Foster parents may be single, married or divorced; parents, grandparents or people with or without children of their own.

Foster parents may be homeowners of renters.

Foster families receive financial assistance to help with child care and other costs of caring for the child in foster care.

Children in foster care will have their own medical, dental, and vision insurance.

Children in foster care may share a bedroom with children of the same gender.

Some foster parents choose to foster children for many years. Others choose to foster for a short period of time. The choice is yours.
Commit to know more about becoming a foster parent, visit StrongerFamiliesTogether.sd.gov or call 605.773.3227.