South Dakota EBT Card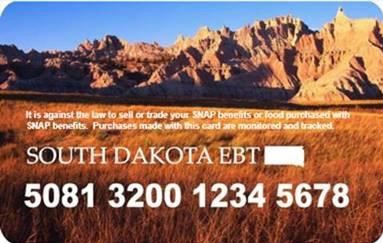 Supplemental Nutrition Assistance Program (SNAP)
SNAP recipients in South Dakota receive their benefits in an electronic account. Recipients are given a plastic debit card, similar to a credit card allowing them to purchase food items at authorized stores. Through the use of electronic technology, the card is swiped at the store and the purchase is debited from the recipient's account and credited to the retailer's commercial bank account.
Recipients may only purchase authorized food items using their SNAP EBT cards. SNAP recipients do not receive change and they cannot overdraw their account.
SNAP EBT provides multiple advantages for everyone. It is cost effective, efficient and accountable. For recipients, it is convenient and secure. Retailers and financial institutions find the system financially accountable, easy to reconcile and economical.
There are three easy ways to access your SNAP EBT account information:
Download the free ebtEDGE mobile app. The ebtEDGE mobile app is available in the Google Play and Apple Store. Search for EBTEDGE and look for the EGG.The ebtEDGE app allows you to view your benefits while on the go. Benefits include:

Account balance
Deposit history
Transaction history
Report a lost, stolen or damaged card
Request a replacement EBT card
Select initial PIN or choose a new PIN
Benefit schedule
Locate SNAP retailers near your location

Online at www.ebtedge.com

Account balance
Deposit history
Transaction history
Report a lost, stolen or damaged card
Request a replacement EBT card
Select initial PIN or choose a new PIN
Send messages to Customer Service and receive replies

Call Customer Service at 1.800.604.5099

Account balance
Deposit history
Transaction history
Report a lost, stolen or damaged card
Request a replacement EBT card
Select initial PIN or choose a new PIN
Speak with Customer Service