Recipient Information
Medicaid Non-Emergency Medical Travel (NEMT)
The Medicaid NEMT Program provides assistance for non-emergency medical travel needs for eligible recipients.
NEMT has created a way to submit and track your claims, keep your correspondence and paid claims statements all in one place.
The new online NEMT Portal will allow you to:
Update and maintain your personal and banking information.
Submit claims online.
Track the status of your claim.
Receive and review correspondence and Paid Claims Statements.
Before you begin using the online portal, select the appropriate instructional video below that will help you navigate the NEMT Portal.
Individual Instructional Videos:
Entity Instructional Videos:
Click on the icon to enroll and begin submitting claims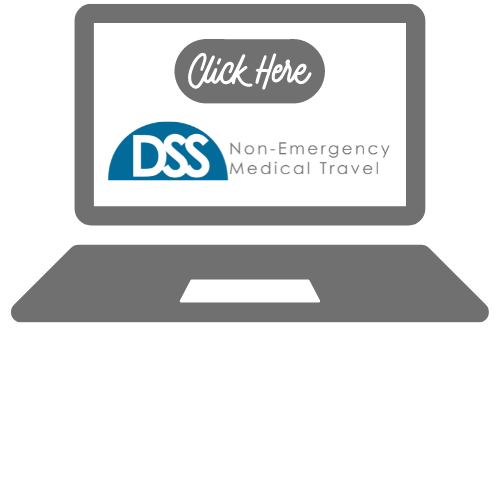 Topics Menu
Mileage, Meals and Lodging:
A recipient must be on a medical assistance program that provides Medicaid NEMT coverage at the time of service.
Travel is from an eligible recipient's city of residence to a medical provider located in another city, between medical providers located in difference cities, or from a medical provider located in one city to the recipient's city of residence.  Mileage is limited to the actual miles between the two cities and does not include miles driven within the city.

Travel to the closest Primary Care Provider (PCP) or Health Home Provider (HHP) is reimbursable.  If travel is not to the closest PCP or HHP, travel will only be reimbursed if a "good cause" exception has been approved by Medical Services.
Lodging and meals are not reimbursable when travel is to a PCP or HHP.

Lodging and meals are reimbursable when the provider is at least 150 miles from the recipient's city of residence and travel is to obtain specialty care or treatment that result in an overnight stay. Meals and lodging are limited to the recipient and, if medically necessary, one escort or volunteer driver.
Meals will be reimbursed only if an overnight stay is medically necessary and the overnight meets the lodging requirement criteria.
A recipient may not receive reimbursement for lodging and meals for days the recipient is an inpatient in a hospital or medical facility.
The Department of Social Services reserves the right to deny coverage for any requests made outside the general coverage guidelines to these rules.
Program Requirements:
A recipient must be on a medical assistance program that provides Medicaid coverage.
Travel must be to the closest medical facility or medical provider capable of providing the necessary services, unless the recipient has a written referral or a written authorization from the recipient's medical provider.
The service must be a Medicaid covered service provided by a medical provider who is enrolled in the medical assistance program.
Trips prior to your eligibility date cannot be reimbursed.
Trips to medical specialty providers other than your Primary Care Provider (PCP) or Health Home Provider (HHP) require a referral.
A NEMT Form must be completed and submitted for each medical trip.  This form, along with any necessary documentation, may be turned in at your local Department of Social Services office, mailed directly to: Department of Social Services, Office of Finance/EBT, 700 Governors Drive, Pierre, SD 57501, faxed to 605.773.8461 or emailed to DSS.EBTSTATEOFFICE@state.sd.us.
The Medicaid NEMT Form must be completed and signed by the recipient, parent or guardian.  The Medical Provider section of the form must be completed and signed by the receptionist, nurse or medical provider.
A recipient will received reimbursement when all requested forms and verifications have been received in our office and processed.
The NEMT program must receive a completed claim form within six months following the month the service was provided.
NEMT Rates
The NEMT Program may reimburse you for mileage, lodging and meals at the current rate of payment.
Out of State Travel Requirements

Prior authorization must be approved before out-of-state travel expenses can be approved or paid by the NEMT Program. The services must be Medicaid covered services and travel must be to the closest medical facility or medical provider capable of providing the necessary services, unless otherwise authorized. NOTE: If the patient has other private health insurance, please follow the requirements of the primary insurance in addition to seeking South Dakota Medicaid approval as the secondary payer. NEMT requires prior authorization for the recipient to receive assistance with travel, food, and lodging reimbursement even if there is no need for South Dakota Medicaid to reimburse the medical service.
If the patient has Medicare in addition to South Dakota Medicaid, prior authorization is required for the recipient to receive travel assistance from the NEMT Program even if there is no need for South Dakota Medicaid to reimburse the medical service.
A NEMT Out-of-State Travel Approval Request form must be completed and return to the NEMT Program to obtain prior authorization. Medical records and any pertinent information must be included with the NEMT Out-of-State Travel Approval Request form. The completed form and required documentation are to be submitted by fax 605.773.8461 or email DSS.EBTSTATEOFFICE@state.sd.us for approval.

Additional medical records may be required in order South Dakota Medicaid to make an accurate determination.
Letters from physicians will not substitute for medical records.
NOTE: THIS INFORMATION IS FOR NEMT SERVICES FOR THE MEDICAL RECIPIENT ONLY AND DOES NOT REPLACE PRIOR AUTHORIZATIONS NEEDED FOR MEDICAL SERVICES.
NEMT Electronic Payments
No more worrying about lost or stolen checks. NEMT travel reimbursements can be made to you by either Direct Deposit into your bank account or by electing to receive a MasterCard® branded debit card.
Direct Deposit features:
Cash benefits or payments can be deposited into your current checking or savings account.
You can avoid trips to the bank to deposit paper checks.
You can be sure your payments will arrive on time, every time.
You can withdraw cash benefits or payments by writing checks against your checking account, withdrawing money from your savings account, or withdrawing cash at your ATM
Way2Go Card® features:
Easy to get – there is no cost to enroll, no credit checks* and no bank accounts required
Widely accepted – make purchases anywhere debit cards are accepted (in stores, restaurants, online, over the phone, etc.
Save time and money – no expensive check cashing fees or trips to the bank
Safe – you don't need to carry cash with you. If you lose your card, it can be replaced. Your funds are protected by MasterCard® Zero Liability** and are FDIC insured
24/7 access – call Cardholder Services
About the Way2Go Card®
It is a reloadable MasterCard® prepaid debit card that provides an electronic option for receiving your NEMT warrants. It is not a credit card, but works similarly to other debit cards. Once funds are added to the card account, it may be used to make purchases everywhere debit cards are accepted. The card can be used for online, phone and mail order purchases. You can also withdraw cash at ATMs, banks or credit unions or by getting cash back with purchases at participating merchants. The amounts of purchases or cash withdrawals are automatically deducted from the available balance on the card.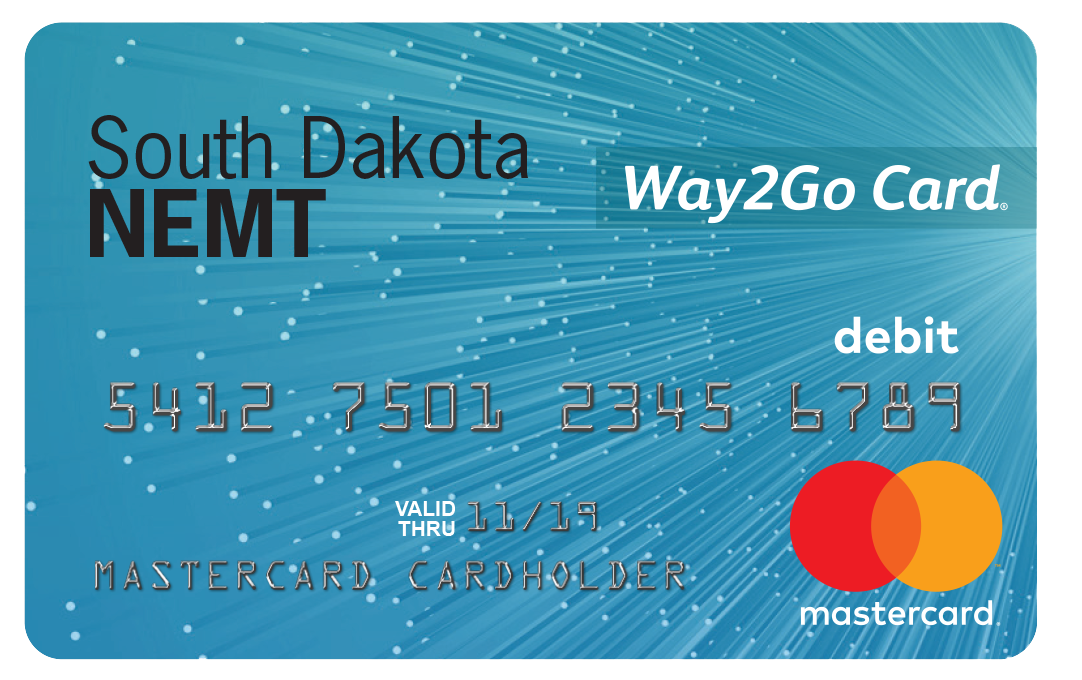 * Successful identity verification required. To help the government fight the funding of terrorism and money laundering activities, Federal Law requires all financial institutions to obtain, verify and record information that identifies each person who opens an account. If necessary, we may also ask to see your driver's license or other identifying documents.
** MasterCard's Zero Liability policy protects cardholders from permanent financial loss due to fraud. You must notify Way2Go® immediately of any unauthorized use. Other conditions may apply. See your cardholder agreement for details. The Way2GoCard® Debit Mastercard Card is issued by Comerica Bank, pursuant to a license by Mastercard International Incorporated. Mastercard and the Mastercard Brand Mark are glistered trademarks of Mastercard International Incorporated. Conduent® and Conduent Agil Star®, Way2Go Card® and Go Program® are trademarks of Conduent Business Services, LLC in the United States and/or other counties. Conduent is the payment solutions provider for Go Program.
How do I sign up for electronic payments?
Complete the NEMT Payment Authorization Form and select either Direct Deposit or EPC
Provide all of the necessary information as requested on the form
When choosing direct deposit provide a copy of a voided check blank or obtain a letter from the bank to verify the routing and account number
When selecting the electronic payment card, it will be received in the mail within 7-10 business days
Return the Form and any necessary documentation to:
Division of Social Services
Office of the Secretary
EBT/NEMT
700 Governors Drive
Pierre, SD 57501
FAX:  605.773.8461
Email:  dss.ebtstateoffice@state.sd.us

When will I receive my reimbursement?
Reimbursements will be received either in your bank account or in the card account within 2 to 3 business days after the program applies the payment. Direct Deposits show up as SD DSS on your bank statement. 
NEMT Forms:
Contact us:

Mail:   
Department of Social Services
Finance/EBT
700 Governors Drive
Pierre, SD  57501

Phone:
Local: 605.773.6527
Toll-free: 866.403.1433
Fax: 605.773.8461

DSS.EBTSTATEOFFICE@state.sd.us